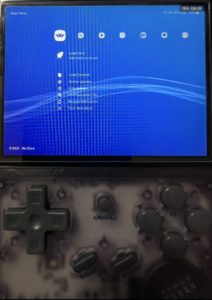 Batocera for RG35XX in a version modified by acmeplus to run the latest version of the well-known Frontend on the console, and that thanks to the unlocking of the GPU, not used by any other Firmware, neither official nor Custom, makes the machine capable of emulate more powerful systems than those already common in other Firmwares, such as PSP, Dreamcast or Nintendo64, although with very limited game compatibility. After many versions and improvements made by the developer, in the end the project has been paused due to high resource consumption.
The developer is currently focused on Koriki for RG35XX, lighter and with better results.
You can find more information and the download of Batocera on the official website.